Why Apply Alone (or with an Agent) When You Can Use Erudera?
Erudera provides an easier, more enjoyable, and personalized experience with the added benefit of AI-driven insights and human expertise. Applying alone is time-consuming, stressful, and often lacks guidance and support, while working with an agent can be biased and limiting.
High level of stress and effort required
Relies on personal knowledge and research skills
Self-directed with limited support
Limited by personal capacity
Limited by agreements they have with universities
Less stress, but depends on the quality of the agent
Potentially biased towards programs that pay higher commissions
Agent may have knowledge and connections in certain fields
Personal support from an agent
Agent can speed up the process, but it depends on their skills
Unlimited access to all universities in our database
Enjoyable, personalized experience with AI support
Unbiased recommendation engine based on user's preferences
Combines AI-driven insights with human expertise
Comprehensive general support with personalized help at key moments
Platform optimized to move through different phases of the process fast
$39.80
Up to 3 applications
Use coupon code ERUDERA03 to get 50% Off when you sign up before March 31, 2023.
At Erudera, you can explore over 150k study programs, and also access our extensive library of education guides, latest news, and scholarship opportunities completely free, whether you choose to use our platform for all stages of your university application process or not.
Benefits of using Erudera during your university application journey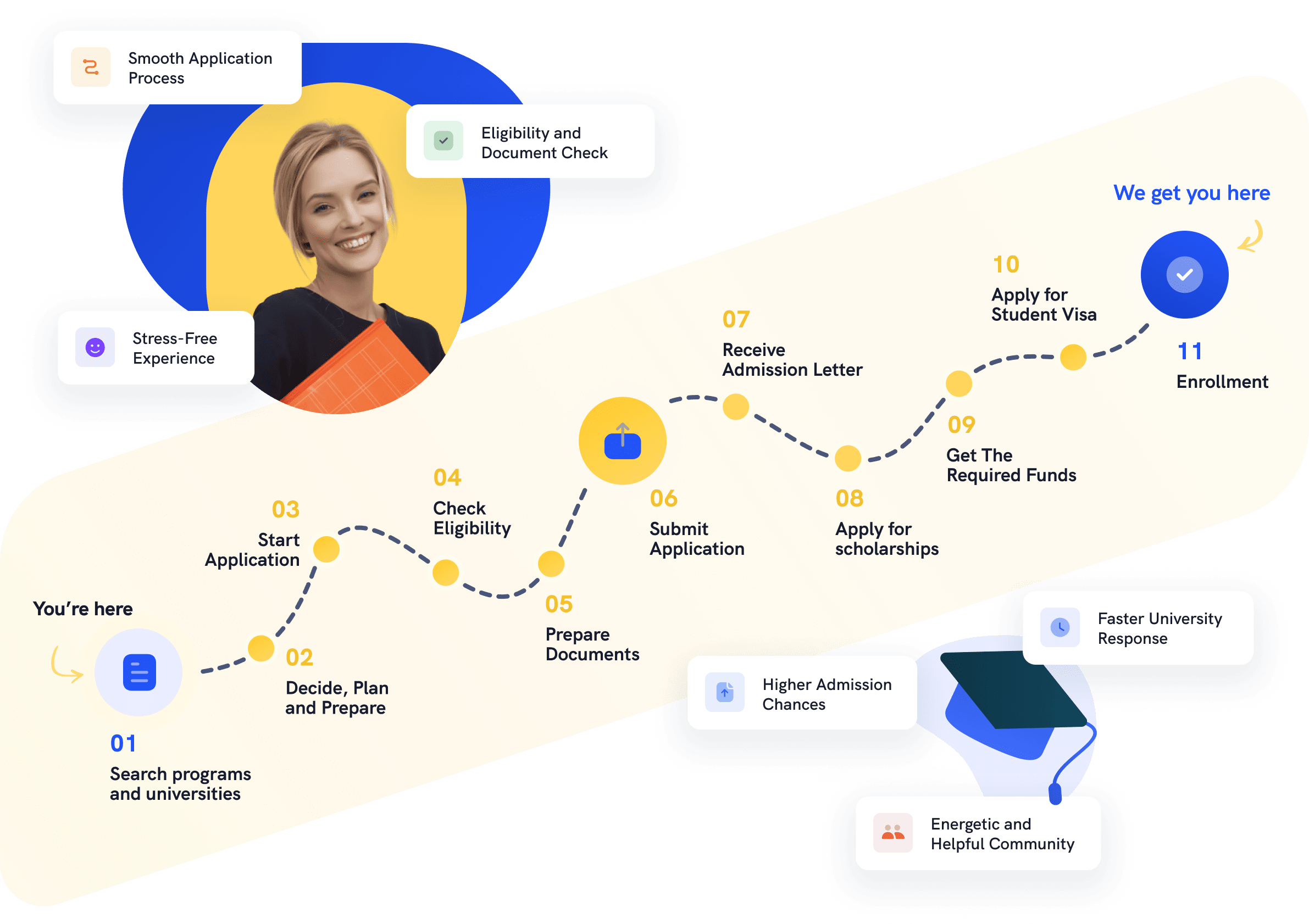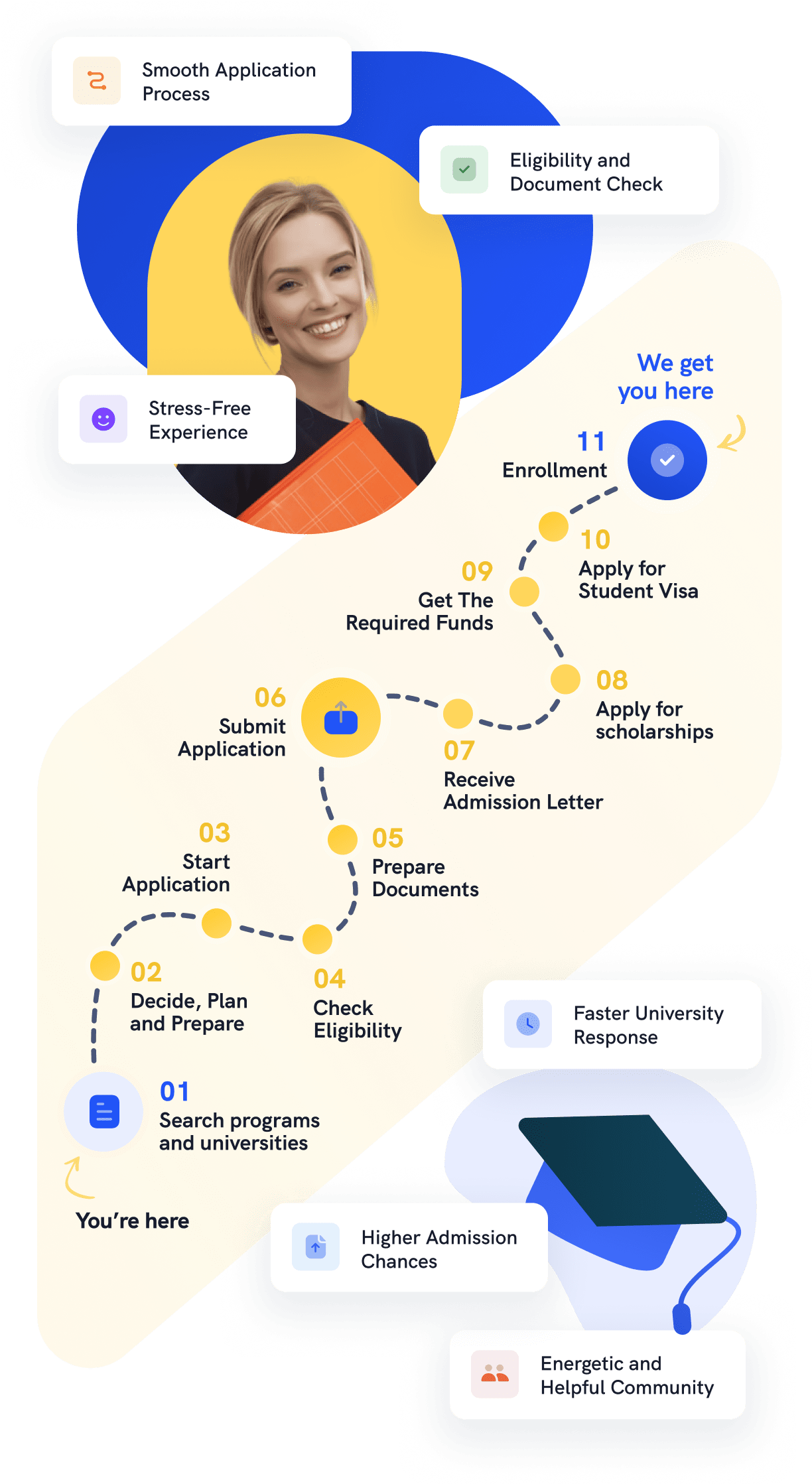 Join 1+ million students who used Erudera to support their educational journey.
What students are saying
Discover why so many students choose Erudera to help them on their education journey.
Start Your Journey
Join 1+ million students who use Erudera.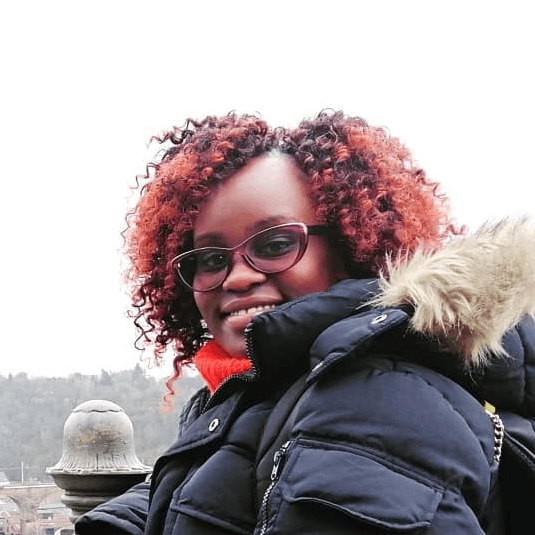 Sheila M
Student from Kenya who used Erudera
"A friend suggested that I should try Erudera. At this point, I was desperate, but I thought I'd give it a go. Erudera provided me with a shortlist of universities in Germany that I was eligible for. I applied and got admitted to the University of Siegen, Germany. I chose Masters in Economic Policy as my major."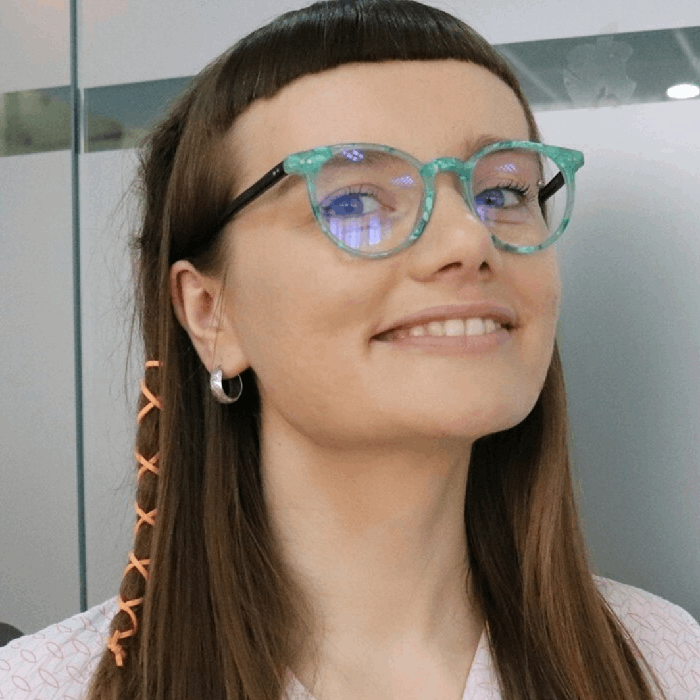 Ardiana B
Student from Kosovo who used Erudera
"Erudera made my dream of studying abroad a reality. I'm now studying Astrophysics and Cosmology on a fully-funded scholarship at the oldest university in the world in Bologna, Italy. I wish more people knew about this platform."
Frequently Asked Questions
Have questions? We're here to help.
Erudera will guide you at every step of the application process through the platform, and an Erudera admission expert will support you during the whole time.
Due to changes in education systems and methodology, students might not always be eligible to apply to a specific program. Erudera performs an eligibility check and delivers an answer on whether or not the student can proceed with the application process.
Erudera supports most popular study destinations. Here is the list of countries covered by Erudera:
Germany
United Kingdom
United States
Canada
Spain
France
Netherlands
Portugal
Italy
Switzerland
Australia
It depends on the university and program requirements, but in general you will need the following documents to move forward with your application. You don't need to have all of them to begin the process, though.
Undergraduate
Copy of passport
Transcript of records
Certificate of graduation
Certificate of English proficiency - IELTS/TOEFL/PTE Test/Other
Personal statement
Reference letters
CV
Postgraduate
Certificate of graduation/bachelor's degree
This depends whether we have a partnership with the university to process applications completely. Once you pass your eligibility check, we will let you know whether we can submit the application on your behalf. If we can't submit the application for you, we will provide you with exact instructions on how to submit the application.
Erudera doesn't charge any fees for helping you with the application process, but because of the large number of requests from ineligible students, depending on the program you choose, we charge a small processing fee to start your application process and determine eligibility - after that, all the support Erudera provides is free.
Note: University application fees, if any, and visa application fees are to be paid by the student.
While we will provide you with specific advice on the whole student visa application process and want to make sure you successfully get your visa, we don't provide any visa application processing or appointment services.
Erudera has over 150 thousand study programs on its database, which you can filter and sort depending on your preferences. Once you find the programs you are interested in, you add them to your personal shortlist, so you can apply in the future. Erudera will use your profile information and your shortlisted programs to generate new program recommendations for you automatically.
Although we list scholarships from different sources on our platform, we don't offer any scholarships directly at the moment and we don't provide scholarship application services.
Erudera will make sure your university application goes smoothly and that the documents required for admission at your chosen program are best prepared to increase your chances of admission. We will provide personalized feedback on your motivation letter to maximize your results.
You can apply to any academic program you are eligible for. Eligibility depends on many factors such as your country of origin, whether the program is open to international students or not, your academic background, application deadlines, and more. Once you start the application process for a specific program, we will check your eligibility and give you the green light to move forward. If you're not eligible, you can apply to a different program at no extra cost.
Join 1+ million students who used Erudera to support their educational journey.