Is German Language Required to Study in…
Is German Language Required to Study in Germany?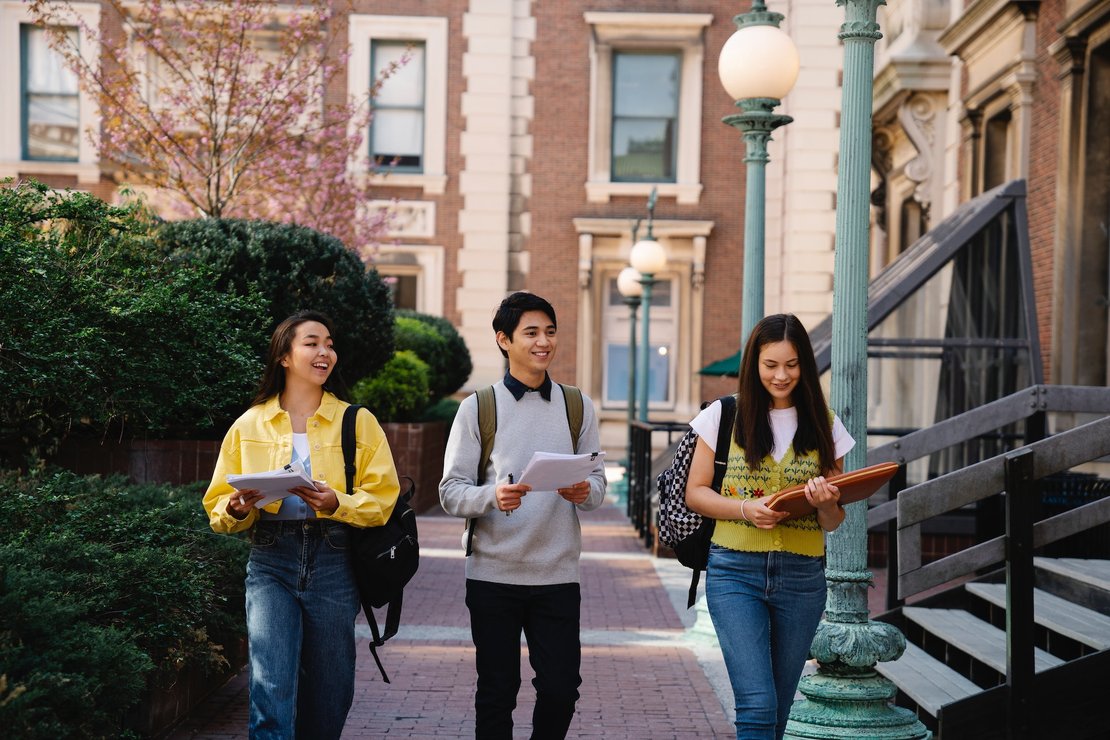 Yes, you must provide proof of your language proficiency in the form of an official certificate if you are applying to a German-language degree program.
An international degree can also be obtained in Germany by enrolling in programs where English is the primary language of instruction. While plenty of courses are taught in English, some of the more advanced classes are taught in German.
Germany welcomes thousands of international students to pursue higher education in various disciplines every year. Germany offers a wide range of entry points for students to choose from because it is the global center for top-notch education and cutting-edge infrastructure.
However, the majority of international students frequently face language barriers. German is spoken by 95% of the population, so speaking in English will not help you meet other students.
What Are the German Language Requirements for Admission?
If you choose to take a German language course, you must reach the B1 level to enroll. You'll also need to pass German language tests, including the DSH, DAF, and C1 level exams, to demonstrate your proficiency. You should also check the university's specific language requirements for admission.
Here are some common German language tests among international students:
TestDaF
TestDaf (previously known as Test Deutsch als Fremdsprache) is an exam designed for non-native speakers of German who want to study or work in German universities. The test is administered in 170 different test centers across Germany and 95 countries worldwide.
All test-takers are graded on a scale of 3-5, similar to the CEFR levels B2 - C1. A score of level 4 is enough to meet the admission requirements of all universities in Germany, and some institutions may even consider applicants with lower scores.
Regardless of the university or program, all participants take the same test.
DSH
DSH (Deutsche Sprachprüfung für den Hochschulzugang) is another language certification that German universities accept alongside TestDaF. However, unlike TestDaF, you can only take the DSH exam at a German university, usually the one you're applying to.
The test evaluates students' reading, writing, and listening comprehension and includes an oral examination. The DSH grading system ranges from 1-3, corresponding to the CEFR levels B2 - C2.
Goethe-Zertifikat
The Goethe-Institut is an organization that promotes German language learning and cultural exchange around the world. It has a network of 159 institutes in 98 countries, partly funded by the German government.
The institute offers a series of exams that assess German language proficiency at six different levels based on the Common European Framework of Reference for Languages (CEFR).
Anyone can take the exams at any Goethe-Institut or with one of its partners. The Goethe-Institut certificate (Zertifikat) is globally recognized as a German language certification. It is accepted for visas, residence permits, citizenship applications, and university admission requirements in Germany.
Telc Deutsch
Telc (The European Language Certificates) provides language certification in 10 languages, including German. They have more than 2,000 test centers across 20 countries.
Telc's standard exams align with the CEFR levels. Still, they also offer specialized exams that concentrate on various subjects, such as language in the workplace, medical language, language for nurses and caregivers, and university admission.
Telc's certification is globally recognized and accepted in Germany for visas, residence permits, and citizenship applications.
TestDAF vs. DSH
TestDaF and DSH are two German language proficiency exams with some notable differences.
The TestDaF exam follows a standard format with the same difficulty level across all test centers. In contrast, the difficulty level of DSH varies by university. This means that you may have a better chance of scoring well on the DSH exam if you choose a university with a lower difficulty level.
In terms of the skills tested, DSH only assesses oral and written skills, while TestDaF tests oral and written skills as well as reading and listening comprehension. This makes it easier to qualify for DSH than TestDaF since it covers fewer skills.
| Exam | TestDAF | DSH |
| --- | --- | --- |
| Number of Parts | Listening, reading, writing, and speaking. | Written and oral. |
| Test Duration | 3 hours and 15 minutes. | About four hours. |
| Test Frequency | Around six times a year. | Around four times a year. |
| Test Location | Various centers across 90+ countries. | Can only be taken in German universities. |
| Score Validity | Valid for an unlimited time. | Two years after the exam is taken. |
| Fee | €210 | €120 |
| Grammar | Not an important part of the exam. | An important part of the exam. |
Choosing between TestDaF and DSH can be difficult as both exams are popular options for proving proficiency in German. However, there are some important factors to consider when making a decision.
DSH has an advantage since it offers both high and low-cost versions, while TestDaF has a fixed cost. However, it's important to note that the cost of these exams may vary depending on the location and test center.
Regarding acceptance, TestDaF is widely accepted across most German universities, while only a few accept DSH. Therefore, the best option for you may differ based on the university requirements (the university you plan to apply to) and your language proficiency.
Each test has its own advantages and disadvantages. DSH is easier to qualify for and less expensive compared to TestDaF. However, TestDaF is more widely accepted in colleges across different countries.
Therefore, before making a decision, it's recommended to review the university requirements, assess your language proficiency, and then choose the most appropriate test option.
Top Universities in Germany Language Requirements
*for specific requirements, please check your respective university's website.
University
English Language Requirements
German Language Requirements
Humboldt University of Berlin
English at the C1 level.
TOEFL: minimum 80, IELTS: minimum 6.0.
German at the B2 level.
Heidelberg University
TOEFL exam with a minimum score of 79.
(DSH) must first be passed at the minimum level DSH-2.
RWTH Aachen University
IELTS - 5.5-6.5.
TOEFL IBT - 90-95.
TestDaF - Level 4.
DSH - Stage 2.
University of Freiburg
IELTS (5.5-6.5 points), TOEFL iBT (72-94 points).
TestDaF 3 or 4,
Goethe certificate B2 or C1.
Eberhard Karls University of Tübingen
IELTS: 6.5 or more.
TOEFL iBT: 79 or more.
DSH-2 or DSH-3.
TestDaF 4 or 5.