Study in Portugal
World's Friendliest Country
Portugal is a mesmerizing country, offering great educational opportunities, a rich culture, and an even more mesmerizing language. Being part of the international student population in Portugal means you will get an extensive glimpse of what it is like to live and study in a country that is the epitome of reasonable costs, nice weather, great outdoors, and exceptional academia.
Erudera's Complete Guide to Studying in Portugal as an International Student
The number of international students choosing to study in Portugal, a total of 50,000 students in 2020, shows that this country maintains its educational values along with its academic excellence and career development opportunities. With its beautiful weather, striking architecture, and its astounding coastline, Portugal offers students the ideal environment to pursue a degree.
Studying in Portugal has a variety of advantages for international students. The modern higher education sector in Portugal has numerous English-taught degrees for international students who cannot speak Portuguese. The cost of living is affordable and reasonable, which gives international students the comfort they need to get an education and enjoy the adventures that Portugal has to offer.
Facts
Portugal is home to one of Europe's oldest universities, the University of Coimbra, established in 1290.
Portuguese is an official language in nine other countries in addition to Portugal.
Popular Universities in Portugal
Reasons to Study in Portugal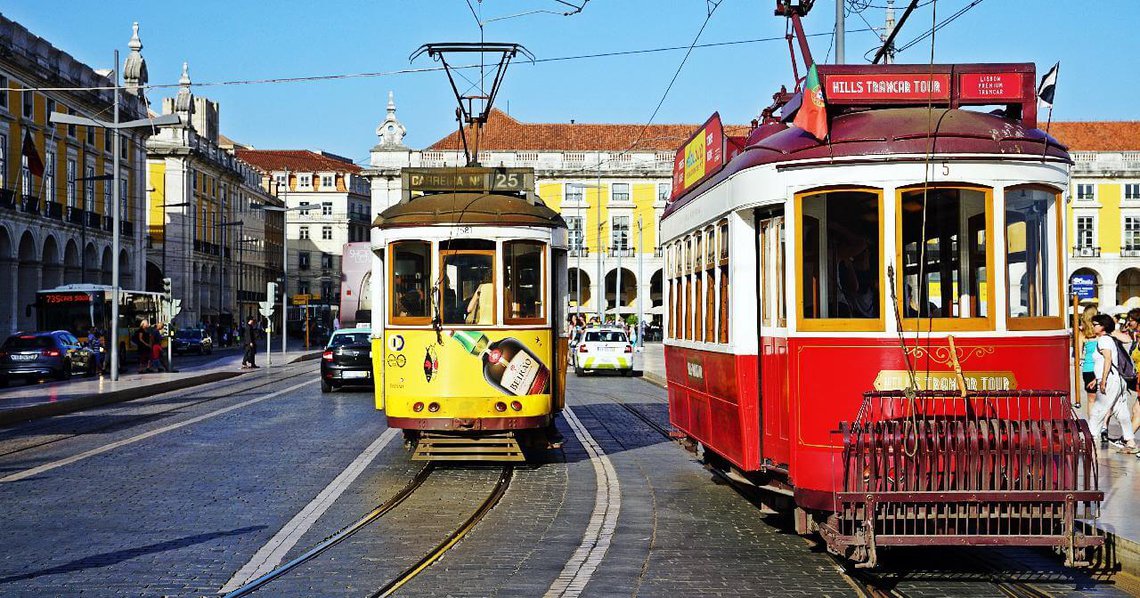 Budget-Friendliness
It is fair to say that Portugal is a budget-friendly country, one of the cheapest in Western Europe. In Portugal, tuition fees are also a friend to your finances, setting non-EU international students back an average of €5,000, while EU students will pay the same as home students. All in all, tuition fees are much cheaper in Portugal than in other countries, even within Europe. The cost of everyday expenses and rent is also reasonable for international students in Portugal.
Fun Weather
Many regions in the south of Portugal receive an average of 300 days of sunshine per year. Fans of sunshine can find themselves under the rays of a warm sun quite often during their stay. This is a great reason to study in Portugal because it means you will thrive under the sun, visit the coastline, and you will not have to carry your umbrella with you anywhere you go. Portugal offers ideal weather for the curious and explorers who indulge in tourism.
Academic Excellence
Universities in Portugal have excellent rankings and an international reputation for excellence. Higher education across Portuguese institutions is of world-class quality, emphasizing the importance of the humanities and the social sciences. But there are various specialty areas across these institutions, which adequately meet the needs of aspiring students from home and abroad.
Coastline Heaven
Portugal has plenty of charming coastal towns, which bring the coast and the cliffs within walking distance. The Portuguese landscapes are a sight to behold, the cliffs are enchanting, and the beaches are calming and adventurous at the same time. There are plenty of water sports available to indulge in during leisure time. Besides, with Portugal being a relatively small country, plenty of locations are 'just next door.'
Visit-Worthy Landmarks
From its capital, Lisbon, which is enchanting, vibrant, and full of culture, to the various other cities like Porto, with its eye-catching architecture and waterfront, or beautiful Braga, located north of the country. With plenty of museums, parks, palaces, and beaches, Portugal is the perfect small country that provides a splendid explore-worthy experience, which is among great reasons to study in Portugal.
The Language
Learning Portuguese can be a great asset. Besides being a beautiful language, Portuguese is also widely spoken in Portugal or Brazil and countries like Angola, Guinea-Bissau, Equatorial Guinea, etc. Even if you are studying in English, you will find yourself gaining interest in the language and even learning to speak it in Portugal. It is much easier to learn a language when you have plenty of practice opportunities around you.
Higher Education System in Portugal
Portugal is also part of the Bologna Process, the European strategy that aims to ensure comparability in higher education standards and quality in Europe. This mechanism promotes educational coherence and mobility, and it is signed by 48 states in total, including Portugal. Higher education in Portugal provides all three degrees: bachelor's, master's, and doctoral degrees.
Higher education institutions in Portugal comprise universities and polytechnical schools, which are more practice-oriented. Students can find public and private institutions across universities and polytechnical schools. The largest university in Portugal is the University of Lisbon, located in the country's capital and founded back in 1911.
Requirements to study in Portugal for international students for undergraduate programs include completing your upper secondary education and proof of having passed the university entrance examination in your home country. Each study program, in turn, will have its own requirements depending on what the program is. Some might require passing an aptitude test.
Language is also part of the requirements to study in Portugal for international students. Undergraduate programs usually teach in Portuguese, meaning they require a B1/B2 level of proficiency. Master's and doctoral programs, being taught in English, typically do not require Portuguese language proficiency. Students from non-EU countries will also have to apply for a student visa.
Tuition fees in Portugal vary depending on the type of institution, meaning public institutions will usually charge less than private universities. International students from non-EU countries typically pay higher fees than EU/home students. The average tuition fees at the largest university in Portugal, the University of Lisbon, are €5,000 per year for international students.
The cost of living in Portugal is among the most affordable in Europe. One of the biggest financial challenges you might face is the cost of the rent. However, due to students' numerous opportunities in residence halls or flatshares, rent is typically not an issue. In general, you will need up to €800 per month to live comfortably in Portugal.
Those who plan to study at the undergraduate level in Portugal should submit their application through the centralized online portal known as Candidatura Online, where applicants can apply to a total of six universities for admission. International students who wish to study at the postgraduate level in Portugal should send their documents directly to the university.
Some higher education institutions might ask you to translate your documents to Portuguese, but this depends on each university's policies. It is essential to meet all deadlines and send the complete set of documents required by the university. In Portugal, applicants are usually ranked according to their grade point average in previous studies.
Accommodation in Portugal
International students in Portugal can choose from different accommodation forms, depending on their budget and preferences. For example, one common form of accommodation, which is also quite affordable, is university halls of residence, which will cost up to €300 per month, and sometimes even less.
Other accommodation forms include studio apartments, where the average rent is €500 and might be higher in larger cities or city centers. International students in Portugal often choose to live with roommates, sharing rent and utility bills, which sets them back around €1,200 per month in total for a three-bedroom apartment, meaning around €400 per person.
Portugal Higher Education News