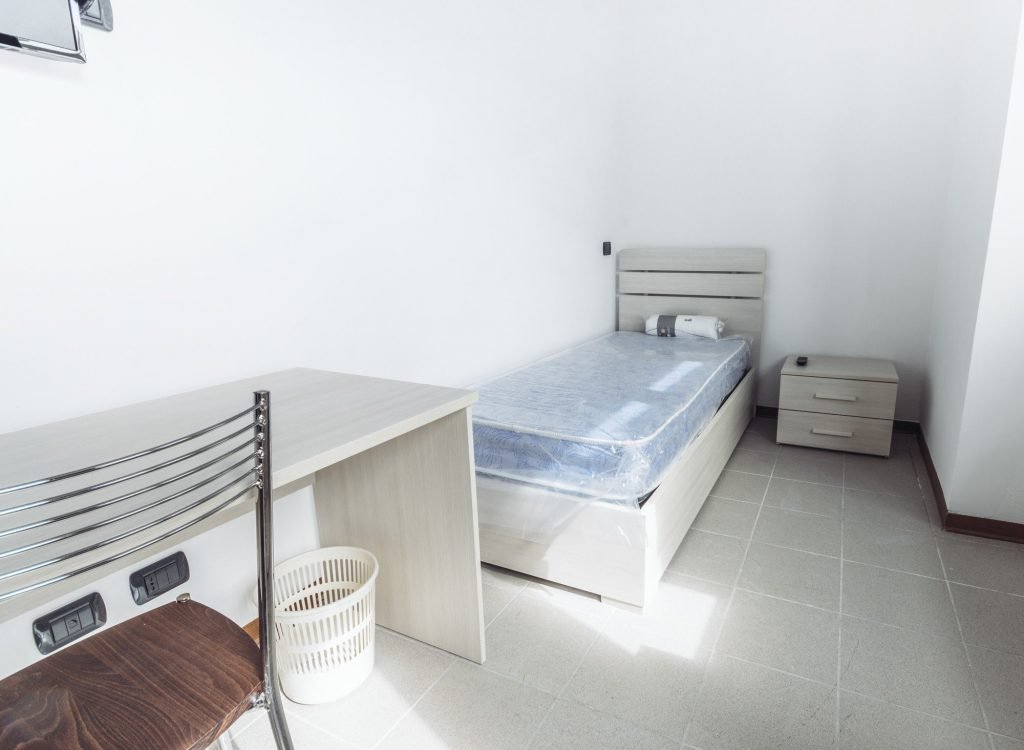 After university admission, accommodation is a crucial factor to consider for prospective international students in Spain. Often, the type of accommodation you choose defines your study abroad experience in Spain, so it is important to start early on the hunt and think long and well before deciding. From more costly accommodation types to cheaper options, you will be able to find anything in Spain. Find everything you need to know about accommodation in Spain for international students in the following sections.
Types of Student Accommodation in Spain
Accommodation for international students in Spain comes in numerous forms. What type of accommodation you opt for depends on your budget, location, and, of course, preferences. Whether you like living with other fellow students or prefer the quiet of your own company, there is something for everyone in Spain. Spain welcomes international students with arms wide open, and the array of accommodation options available is plentiful.
Here are some of the main types of accommodation for international students in Spain:
Student Residence Halls
A significant advantage of student residence halls in Spain is that they are often located close to universities. Student halls of residence allow you to live in a community with other students, and they are equipped with diverse facilities and services (sometimes even a pool or gym). Depending on the residence halls' location and amenities, the cost can range from €350-1000 per month. The study rooms, kitchen, wifi, cafeteria lounge, sports facilities, etc., are often included in the monthly cost.
Many universities have their own halls of residence for students or are affiliated with other private residence halls. For example, the University of Barcelona has three residence halls and numerous other private residences affiliated with the university. Student residence halls are an excellent option for students who want to make friends, practice the language, or simply live in a student community close to campus.
Rented Apartments
Rented apartments are one of the most popular forms of accommodation in Spain for international students. Students often opt for rented accommodation due to the budget-friendly options available. The cost of living in rented accommodation depends on circumstances like whether you are living alone or with roommates, the location of the apartment, and whether it is furnished or not. Students usually choose one of the following options:
Flatshares (Rented Room). Sharing an apartment with other students is an affordable accommodation option for international students in Spain. You may either decide to rent an apartment along with your friends or rent a room with students you do not know (who are looking for roommates). You get to share the bathroom, kitchen, and living room, but you also get to make friends and spend less on rent and utilities.
Studio Apartments. Studio apartments give you more privacy, but they are also less cost-friendly. If you rent a studio apartment in one of the major Spanish cities, you will be expected to pay somewhere around €800-1000 ($962-1202) per month, depending on the size of the studio apartment. The cost is lower in smaller cities like Granada, for example, where you can rent a studio apartment for as little as €300 ($360) per month.
Homestay Accommodation
Living with host families is also a popular form of accommodation in Spain for international students. Host families are welcoming, and they provide a great experience of the Spanish culture, where you can study and practice your Spanish-speaking skills. The average cost is around €600 ($721) per month (or €20 per night). The cost depends on the location, amenities, room size, etc.
Cost of Accommodation in Spain
The overall cost of accommodation in Spain is a major expense for international students in Spain. Regardless of the city you choose to live and study in, accommodation in the city center is always more expensive than somewhere else outside of the center. However, Spain has an efficient public transport system, allowing students to travel from one place to another for a reasonable price.
The average cost of accommodation in a few Spanish cities:
| | Barcelona | Madrid | Granada | Valencia | Salamanca |
| --- | --- | --- | --- | --- | --- |
| 1-Bedroom | €900 | €900 | €500 | €750 | €450 |
| 3-Bedroom | €1,500 | €1,600 | €800 | €1,200 | €750 |
Barcelona and Madrid are two of the most expensive cities to rent an apartment. Salamanca, Granada, and Valencia are much more budget-friendly. Renting a three-bedroom apartment in Barcelona would cost an average of €1,500 ($1,804) per month; depending on the apartment's size, rent could be higher or lower. Renting a room in a three-bedroom apartment in Spain would probably cost €500 ($601) per month, excluding the cost of utilities.
Tips on How to Find Accommodation in Spain
Finding accommodation in Spain will not be an easy task, but it will not be difficult either. The important thing is to begin early and consider all of your options. The accommodation choice you make should be well-thought, especially in terms of finances. Some of the steps on how to find accommodation in Spain for international students include the following:
Consider Your Choices. First of all, you should consider all choices available to you and decide on one of them before starting your accommodation hunt. If you think flatshares are a good option, then focus your search on flatshares until you find the appropriate one. Think of how many people you would like to live with, what location is suitable, or what budget works best with you - all these will help narrow down the list of options available.
Go Through Listings. Online apartment listings are one of the main forms of finding accommodation in Spain. Make sure you ask for the necessary details before deciding.
Plan Your Budget. Plan the money you intend to spend on rent. This will help you make your choice. Budgeting is essential for international students in Spain, so learning how to manage your finances will be a great advantage.
Check the Location. The location is crucial. If you want to rent an apartment outside of the city center, ensure that public transport is available in your area. Although public transport is efficient in Spain, transportation in the country's more rural areas can be less frequent.