Leaving Australia to Escape the High Cost of University: Is Unaffordable Education Pushing Students to Europe?
Australia Oceania International Studies Higher Education News Statistics by Erudera News Jun 01, 2023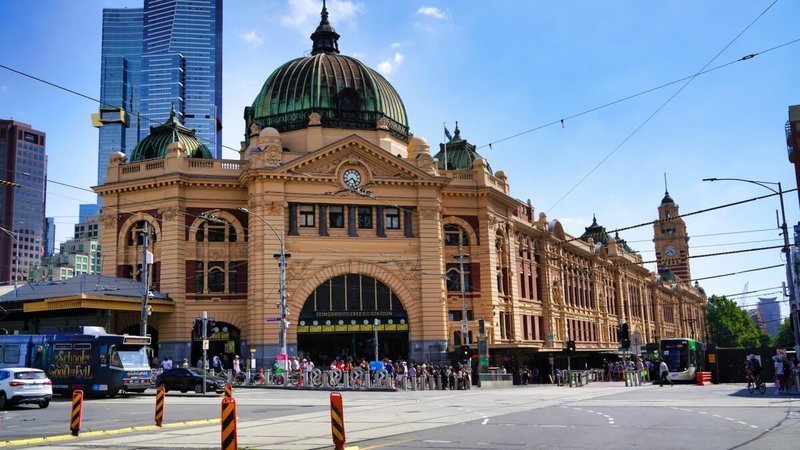 International students have a significant impact on their host countries, mostly because they contribute large sums of money to their economies. Currently, the United States, the United Kingdom, Australia, Canada, and Germany are the most popular study-abroad destinations for international students.
The competition between these countries to attract international students intensified after the COVID-19 pandemic. Back then, international students faced uncertainty regarding their education and were forced to leave their study destinations and return to their home countries, Erudera.com reports.
In the post-pandemic era, countries like Australia strive to return the number of international students to pre-pandemic. But it seems that the high cost of university education in Australia may impact these efforts, with students considering studying in countries that offer free or affordable education for international students.
Australia is considered one of the most expensive countries for international students, with living costs ranging from $14,290 to $19,288 per year. On the other hand, some European countries, such as Germany or Switzerland, appear to be an appealing and affordable choice for students, as many universities there offer tuition-free education.
The cost was the main reason why student Stefan Djukic left Australia to pursue his studies abroad. Djukic, originally from Bosnia and Herzegovina, lived in Australia until 2019, when he moved to Europe after thorough research for a more affordable education compared to Australia.
"The overall cost of universities in Australia, when paired with the cost of living, just did not seem like the best option when there are so many other countries in the world that offer the same for much less," he told Erudera.
Currently studying at Singidunum University in Belgrade, he explained that he chose Belgrade due to cheap tuition, personalized and professional learning, low cost of living, high English proficiency, and proximity to the rest of Europe.
In Australia, Djukic said he was used to the idea of taking student loans to cover education and repay them in the next 10-20 years, which has increased even more. Starting today, June 1, Australians with HECS-HELP debt will see their loans increase by 7.1 percent, the highest rise in 30 years.
Only after a conversation with one of his friends studying in Austria, Djukic realized that education in Europe is much cheaper than in any Australian university.
While speaking to Erudera, he highlighted the differences in tuition fees at a private Serbian university offering lessons in English and those in Australian universities. Students at a private university in Serbia pay approximately $5,000 AUD, while a single semester costs more than that across Australia.
He delved into more detail, explaining additional expenses in both places, including food, accommodation, and public transport. The amount he pays for an apartment in Belgrade, located 2-3 km from the city center, is equivalent to the weekly housing costs he used to pay in Australia.
"Public transport is much more evolved and integrated into society in Serbia as there are rides every few minutes, and a monthly card costs $18 for unlimited rides on all forms of public transport. Food is exponentially cheaper in Serbia, with an average meal at a medium-range restaurant costing approximately $18 if all drinks and dishes are considered," student said.
Erudera's data show that tuition at universities in Serbia starts from €1000 per year while the average cost of living stands between €527 and €641 per month. International students can also work up to 20 hours per week while studying in Serbia.
"Tuition at government universities in Serbia is even cheaper. What appealed to me was that there was a much more personalized experience as the classes all had less than 30 people, and the teachers would go out of their way to help you learn, a luxury that would cost exponentially more in Australia," Djukic added.
Besides Serbia, some other countries in Europe that offer free or affordable education to international students are:
Albania
Belgium
Bulgaria
Croatia
Czech Republic
Estonia
Finland
Greece
Italy
Portugal
Spain
Sweden
Beyond Price - What Else International Students Truly Value
Is my degree worth it? This question may have been asked often by those who want to pursue a university education. Research has shown that value for money is a priority for international students when they make their final decision.
According to a survey conducted in 2021 by the Higher Education Policy Institute think tank, 44 percent of students in the United Kingdom said that universities that year offered poor value for the money they paid.
Yet, other factors play a key role in their decision-making process. While seeking cost-effective options, international students want at the same time, to ensure that their degree will increase their chances of employment.
Andrew Deuchar, a postdoctoral researcher at Australia India Institute and the University of Melbourne, said that students are typically prepared to pay more for a degree when they know it is likely to get them a decent job or when a university has an especially good reputation.
"These factors are closely related. But over the last few years, my research indicates that international students are increasingly concerned about which institutions and countries are likely to effectively support them and foster their well-being.
So value for money is not just a calculation international students make by thinking about future earnings beyond their degree, but one where they consider how they will be supported during the process," he told Erudera.
While job prospects and the university's reputation are important, some individuals also consider other factors, such as the overall functioning of the institution or the assessment methods.
Student Djukic appreciates the independence offered at Serbian universities, where students are often entrusted with determining their next step. However, he has noticed the Serbian education system lags behind Australia's modern educational methods.
"There are considerable differences in terms of teaching styles, and I feel like Europe in general, but Serbia specifically, still uses a more outdated system where it focuses primarily on exams, while there is a much bigger focus on essays in Australia."
Reducing Fees & Offering More Scholarships to Remain Competitive & Attract Int'l Students
Australian universities should reduce fees and offer international students more scholarships so Australia remains a leading study-abroad destination. That is what Deuchar suggests to universities and policymakers.
Besides that, he also said that finding out how international students can support each other, working with them, and co-designing what a productive time in Australia might look like, are some of the strategies that, according to him, "would be a promising way to proceed."
"I have argued in my research that the most effective supports international students receive are usually from other international students. This is important for two reasons which are interconnected. First, it means understanding that international students are capable, dynamic, creative, and competent."
When addressing the issue of offering scholarships, Deuchar said it is especially important to support international students who might be unable to afford education in a certain country without additional assistance.
He said that the rising cost of living in Australia could also affect the decision of a vast majority of students, in particular those from less privileged backgrounds.
"Over the last few years, students in vocational education and training have been coming to Australia in increasing numbers. But relative to students studying at elite universities, students in TVET courses tend to come from less privileged backgrounds," Deuchar said.
Since the start of 2023, international students in Australia have been struggling to deal with excessively high rental prices and a lack of housing options. Certain regions in Australia have witnessed a staggering 20 percent increase in annual rents.
The recent ANZ CoreLogic housing affordability report has revealed that rental affordability in Australia has declined to the most unusual levels in nearly a decade. According to the report, the median income required to service a new lease has been the highest since June 2014.
Nonetheless, despite experiencing financial distress, international students in Australia were a good source of income for the country last year. According to the Australian Bureau of Statistics (ABS), Australia's students contributed AUS$25.5 billion (USD$17.15bn or €16,18bn) to the country's economy in 2022.
Figures from the Australian Trade and Investment Commission (Austrade) show there were 619,371 international students on student visas in Australia in 2022, an eight percent increase compared to the same period in 2021.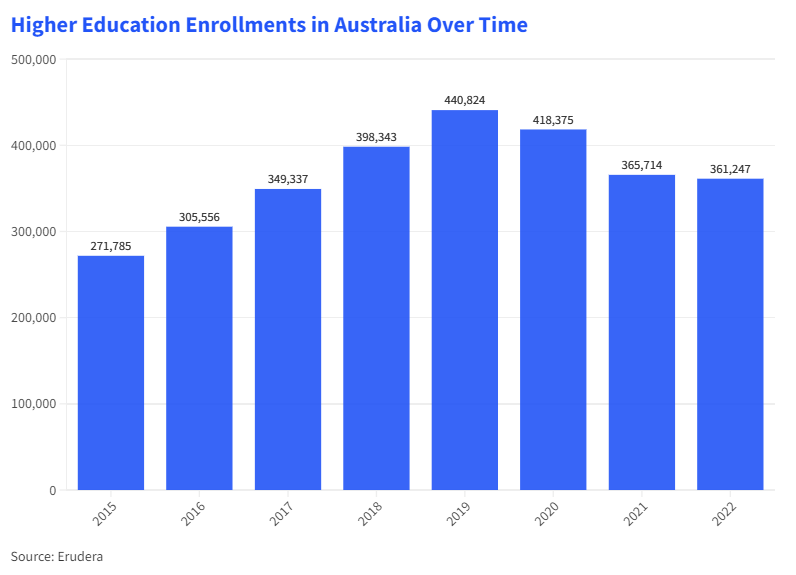 Chinese, Indian, Nepalese, Columbian, and Vietnamese students accounted for 58 percent of all international students in Australia in 2022.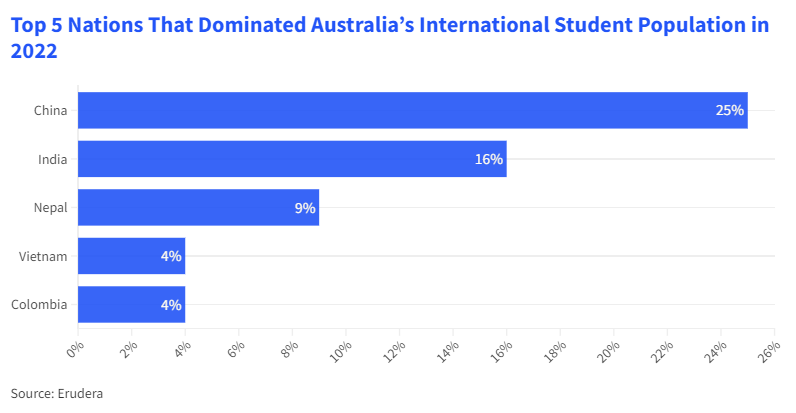 The same shows there were 746,387 enrolments last year, with:
48 percent in higher education (361,247)
37 percent in VET (270,838)
11 percent in ELICOS (79,362)
3 percent of non-award students (20,067)
2 percent in schools (11,873)
International Students Make a Difference in Communities: Heartwarming Stories
The contribution of international students appears to be more than financial, which might be one of the potential reasons behind the battle between top study destinations to recruit international students.
International students contribute by involving in activities, helping society, and improving the lives of others.
"During the COVID-19 pandemic, I interviewed an international student who created welfare packs and dropped them around to people in need in his community. I interviewed another student who volunteered every week at a nursing home and played chess with elderly residents," Deuchar explained.
That's why, according to him, it is important to recall what international students bring to Australia more broadly in the context of migration histories, as international students are qualified people who are able to make key improvements to the economy.
"International students, strictly speaking, are not migrants. But they are a cohort who are highly skilled and are able to make key contributions to the economy.
Almost every international student I have interviewed in the last five years has shared information and sought to assist other people - not just other international students.
There is so much invisible labor and care performed by international students that improve the lives of others. That is why there is so much at stake in ensuring they continue to come to Australia and are able to thrive when they get here," he added.
Earlier this year. Universities Australia, the body representing the country's universities, said that Australia needs a system that recognizes the benefits of migration and that international students should not be discouraged but motivated to stay in Australia.
During the COVID-19 era, international students worldwide, especially those in Australia, were among the most affected. Back in the day, Australia was not a very friendly country regarding restrictions for international students, who were told to return to their homes.
Such requirements led to a huge loss of international students, the consequences of which are still felt, with the country continuously trying to return to pre-pandemic numbers.
>> Minister Clare About Number of Int'l Students in Australia: UK & Canada Are "Eating Our Lunch"
Photo: Billy Joachim | Unsplash
Related News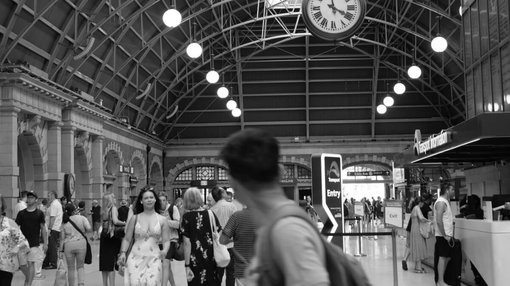 As international students return to Australian campuses in increasing numbers, Australia faces the biggest housing crisis in decades.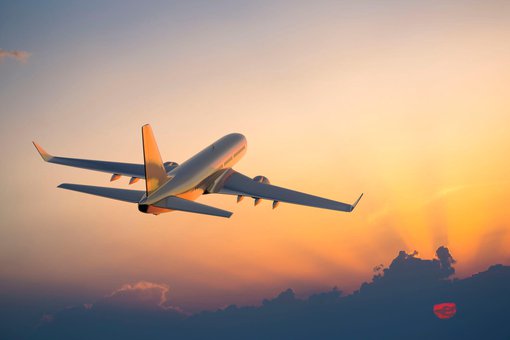 The number of international students arriving to study in Australia has more than doubled this July compared to the same month last year, recent data from the Australian Bureau of Statistics (ABS) have revealed.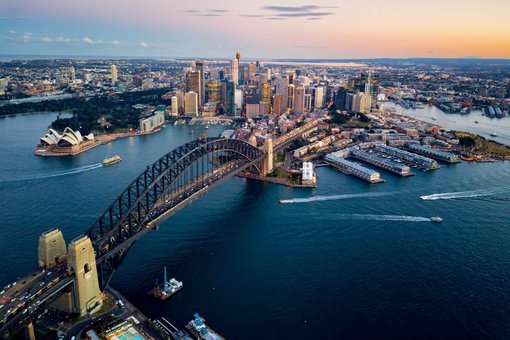 The University of New South Wales in Sydney, one of Australia's largest academic institutions, has called on its students and staff to notify it about any "foreign government interference" they come across on campus, local newspapers report.